Onsite Car Lockout / Car Unlock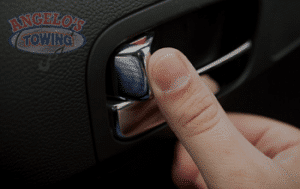 Thanks to the keyless remote, getting locked out of your car is becoming less and less common. However, when lockouts happen they are never convenient. You look inside your car window and see your keys, sitting in the console or dangling from the ignition, but there is nothing that you can do to get them. Now that car door locks no longer have the plunger shape and protrude from the top of the inside of the door like they used to (in order to prevent theft), the old-school "coat hanger" approach to getting your door open does not work either.
That's where we can come in — we provide service throughout San Diego County for lockouts. If you find that your keys are locked in your car, we can get out there sooner than many of the so-called "emergency locksmiths" in the area, and our fees are significantly less as well. All it takes is one quick call to our dispatcher, and one of our technicians will be heading your way, with the tools and training to get into your car for you without doing any damage to the door or the body. Then you can grab your keys, put them in your pocket, and after you've paid the technician, you're on your way (and we to take cash, or debit or credit cards on the spot). 
In addition to lockouts, we offer other services for owners of cars and trucks in San Diego County. If your battery is dead, we can come out and jump start it for you or even provide battery installation if the jump isn't enough. We can also bring you enough gas to get to a fuel station if you've run out. We can assist with tire changes and other forms of minor aid as well. Give us a call today!