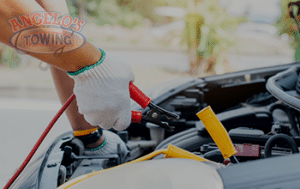 Nobody likes the experience of getting into their car only to turn the key and your car makes little or no sound. Well, this is not a rare problem for drivers in San Diego County, so do not feel as if you are alone in this. If you do not have jumper cables, you might have to call in expert jump start services.
1. Onsite Portable Battery Booster Service in San Diego
When you contact us, we will come armed with a hand-portable battery that is attached to cables. It is similar to a car's battery and can sense the battery's polarity before sending power to the automobile. This eliminates the danger that results from reversing a connection.
2. Hybrid Cars Jump Start Services in San Diego
Hybrid vehicles have a tiny 12-volt battery system that cannot source a huge amount of current that is needed in jumpstarting a regular car. Therefore, we use a 12V portable battery booster to jumpstart hybrid vehicles.
3. San Diego Battery Voltage Issues
In the past, most especially in cold climates, some jump-starts had to be done using two series-connected batteries to offer 24 volts to a 12V starting motor. Heavy automobiles such as excavation equipment, large trucks, and vehicles with diesel engines might benefit from 24-volt electrical systems.
4. Mobile Onsite Car Battery Replacement Services for San Diego
Would you want your battery to be replaced? We replace batteries on cars, trucks, SUV, box truck, minivans, RV, semi-truck, motorcycle, and many others.
We are a leading roadside services provider in San Diego County
No matter the time of the day, you can rest assured knowing that our experts will come to your rescue. Not only are our staff members trained, but we also make use of the tight equipment necessary for jumpstarting a car. We assure our clients that they will have an expert on-site within 30 minutes after the call to request help.
Other roadside assistance services
Besides jump-starting cars, we offer an array of other roadside assistance services that you can benefit from. One of these services is the towing service. We offer towing services for your car or truck any time of day that you ask for assistance. We also offer fuel services, dead car battery recharge, lockout services, and flat tire repair.
Call us today!
As long as you are in San Diego County, you are sure to benefit from our services. We have the required infrastructure to get to all parts of the county within less than an hour, also because we are strategically positioned. Save our number and call us; we will answer promptly.